Two Wisconsin girls (both age 12) were arrested in June 2014 for attempted murder. Both girls lured another girl – a 12-year-old classmate – into playing Hide and Seek in the woods near a public park. Then they stabbed her 19 times.
On Saturday, a bicyclist found the victim, lying on the sidewalk and covered in blood, with injuries to her arms, legs and torso. She had managed to crawl out of the woods, where the suspects had left her.

She was rushed to a hospital, where she was in stable condition Monday evening, but fighting for her life.
The two girls told police they had been planning it for months, and that the victim was intended as a sacrifice to internet urban legend "Slender Man."
[12-year-old Anissa] Weier told police that Slender Man is the "leader" of Creepypasta, and in the hierarchy of that world, one must kill to show dedication.

Weier said that [her friend, 12-year-old Morgan] Geyser told her they should become "proxies" of Slender Man — a paranormal figure known for his ability to create tendrils from his fingers and back — and kill their friend to prove themselves worthy of him.

Weier said she was surprised by Geyser's suggestion, but also excited to prove skeptics wrong and show that Slender Man really did exist.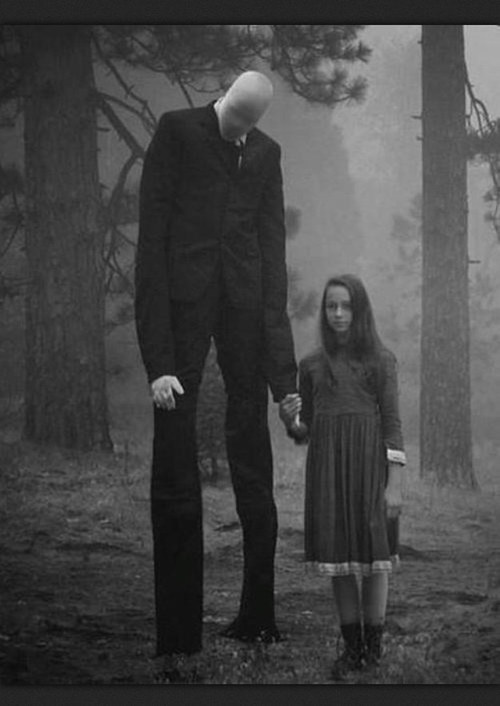 The suspects believed that "Slender," as Weier called him, lived in a mansion in the Nicolet National Forest in northern Wisconsin. The plan was to kill the victim and walk to Slender's mansion.

After school on Friday, Weier told police, she and Geyser went to Weier's house, where she packed a backpack with clothes, granola bars, water bottles and a picture of her mother, father and siblings.

She didn't want to forget what her family looked like after leaving for Slender's mansion.
The Slender Man is a horror fan's urban legend par excellence. The 2009 Something Awful meme was based on photoshopping a creepy 'slender man' into the background of photos, a photobomb inserted in post designed to creep out the viewer. The story of Slender Man grew out of the Creepypasta Wiki, a community fiction site where horror stories are spun out of real life events, urban legends and anything that the community deems good for a scary story.
The "legend" of Slender Man is one of the site's hallmarks. The paranormal character taps into a lot of subconscious human fears, and has evolved become a figure in video games and other media.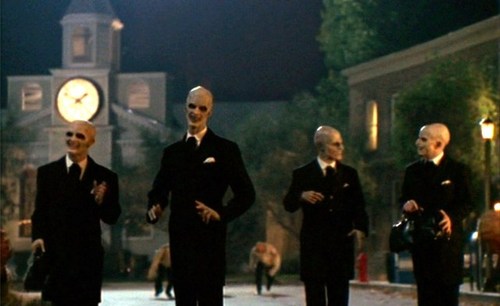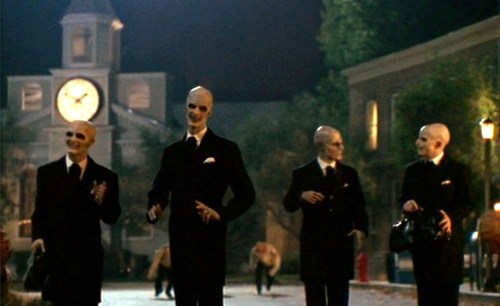 The creatures known as "The Gentlemen" in the Buffy episode of Hush (1999) were a variation on Slender Man (but with faces).
The apparition primarily manifests in the woods to slaughter and/or abduct children.
When asked how many times Geyser [below photo] thought she stabbed the victim, Geyser said she did not know; all she heard was screaming.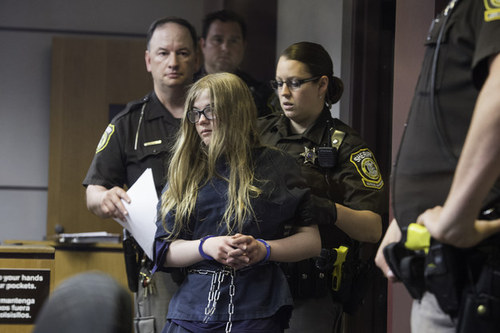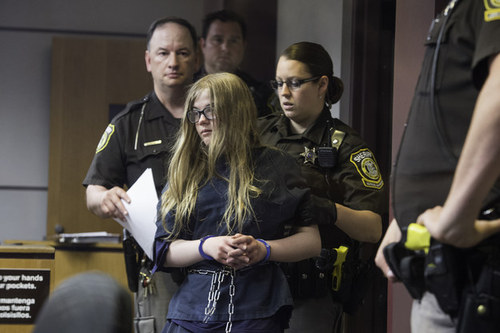 At one point, when talking with police, Geyser said she was sorry. She said she had put the knife back into her bag and wiped it off on her jacket. She then told a detective, "It was weird that I didn't feel remorse."

Geyser said they had to do it or "he would kill our family." When asked who "he" was, Geyser said she didn't know him. When asked what she was trying to do when she stabbed her friend, Geyser said, "I may as well just say it: Kill her."

When asked about Slender Man, Geyser said she had never met him but said he watches her and he can read minds and teleport.
As details from the girls emerged, Creepypasta Wiki began to receive public blame and negative press attention. Exasperated, a Creepypasta Wiki user published a now-deleted post titled Fiction, Reality, and You. Here's an excerpt from when it was still online:
Besides the backlash, this incident shows what happens when the line of fiction and reality ceases to exist. When a person truly believes that Internet short stories are cold hard facts. When a person attempts to replicate works of fiction to the point others are harmed. And for this, I'm going to make myself loud and clear:

ALL WORKS PRESENTED ON THIS WIKI AND OTHER SITES (INCLUDING SLENDERMAN, JEFF THE KILLER, BEN, SONIC.EXE, ETC) ARE FICTIONAL STORIES AND CHARACTERS
The attack came to be known as "the Slender Man stabbing."
The girls, Anissa and Morgan, now 13, were charged as adults with attempted murder in the first degree. On August 10, 2015 their attorneys attempted to have them tried as juveniles, but Waukesha County Circuit Court Judge Michael Bohren denied the request and ruled that they are mentally competent to stand trial. On August 21, Judge Bohren entered a "not guilty" plea on behalf of both girls after their attorneys declined to enter pleas; the following month Judge Bohren stayed the case against the two girls so that a state appeal court could determine whether they should be tried in adult or juvenile court. The decision is expected "in early 2016" — any time now.
NY Mag wrote in August of last year,
In jail, Anissa has been a model inmate. … Anissa is also a mess. She seems unable to retrace her steps and fully understand how she got to this place. In July of last year, after threatening self-harm, Anissa was put on suicide watch and given a straitjacket.

… For four months last fall, Morgan was transferred to the Winnebago Mental Health Institute, where she was put under 24-hour surveillance and diagnosed as schizophrenic. … In her police interview, Morgan is not quite willing, or able, to release Slender Man entirely to the realm of acknowledged fantasy — "It was weird. I felt no remorse … I still have this idea that it was necessary," she tells the detective — and, in jail, Morgan seems to be unraveling further. According to testimony from guards and other people who have observed her, she is frequently seen in conversation with people who aren't there. She eats her meals on her knees on the floor with her back to the door, and when someone unexpected comes to see her, she sometimes whirls around and make claws with her hands, like a cat.
Possibly related posts: